The Dish: Nachos Gone Loco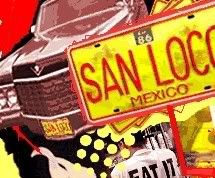 After a long day at the grind, idly staring at that blinking cursor on the blank Word document, you very well may get that familiar craving for a plate of delicious nachos. But just as you're recovering from your boss's shenanigans, you may also lack any motivation to make them yourself or trek to some restaurant for a long wait. The good news is if you live in New York you are privy to arguably some of the best delivery nachos around.
San Loco
, with three locations in the City, may be tiny and a bit rough around the edges for, say, a date at their restaurants but order their nachos from home and you will not be disappointed. Always hot on arrival, these delivered goods are chock full of Stuff--ground beef, beans, guacamole, lots of cheese, pico de gallo, and lettuce. And while the chips are hefty, be warned that if you don't eat these babies upon arrival, you may be faced with a soggy problem. We are, however, willing to let that slide considering how good, cheap, and fast they are for quality, consistent Mexican food. Normally those words wouldn't be allowed to go together, but we're willing to make an exception if the job is done right, which it unquestionably is.
San Loco delivers from noon until midnight, Sunday through Wednesday--and until 4 a.m. on Thursdays, Fridays and Saturdays.
Locations:
151 Avenue A (btwn 9th & 10th St), 212-982-5653
124 2nd avenue (btwn 7th St. & Mark's Pl), 212-260-7948
111 Stanton Street (btwn Essex & Ludlow), 212-253-7580 --Now Serves Alchy
Labels: The Dish