Cheesy Recipeesy: Cinco de Nacho Drinky Drinks
It's that time of year folks... time to party Nacho style. The NaCho Blog's got your Cinco de Mayo celbration covered... with cheese. Dip your fingers into these tasty holiday recipes and get the party started.
Bobby Flay's Cactus Pear Margaritas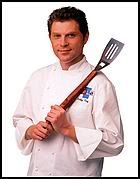 Prep Time: 10 minutes
Yield: 4 servings
Lime wedge
Coarse salt
8 ounces white tequila
4 ounces Cointreau
4 ounces cactus pear juice
2 ounces Roses lime juice
2 cups ice cubes
Rub lime wedge around the rim of cocktail glasses and dip the rim into a saucer of coarse salt. Place tequila, Cointreau, cactus pear and lime juice and ice cubes in a blender and blend until frothy. Divide among glasses. Drink up!
Emeril's Pomegranate Mojito with Vanilla Sugar
Prep Time: 10 minutes
Yield: 1 drink
1/4 cup pomegranate juice
2 ounces white rum
1 tablespoon vanilla sugar, or to taste, recipe follows
4 ounces club soda
Cracked ice
6 sprigs fresh mint
In a cocktail shaker, combine all ingredients except the mint and shake well. Mull the mint in the bottom of a cocktail glass. Strain the pomegranate mixture into the glass with the mulled mint, and serve.
Vanilla Sugar: 1 vanilla beans, split in 1/2 lengthwise and crosswise
4 cups granulated sugar
In a large container with an airtight closure, place 1/2 of the sugar. Add the bean quarters and cover with the remaining 2 cups of sugar. Close tightly. Place in a cool, dark place. Twice a day shake the container to distribute the vanilla essence. Continue the process for at least 1 week and up to 3 weeks. Replace the sugar as it is used.
Paula Dean's Pina Colada
Prep Time: 5 minutes
Yield: 4 servings
Ice cubes
1/2 cup rum
1/2 cup coconut cream
1/4 cup coconut milk
1/4 cup pineapple chunks
Sliced pineapple, for garnish, optional
Maraschino cherry, for garnish, optional
Fill blender halfway with ice cubes. Add rum, coconut cream, coconut milk and pineapple chunks. Puree.
Serve, garnished with a slice of pineapple and maraschino cherry, if desired.
Labels: A Little History, Cheesy Recipeesy